Our Business
Research and Development

Security changes with the times. Miwa Lock's integrated research and development has given us further improved product development capabilities.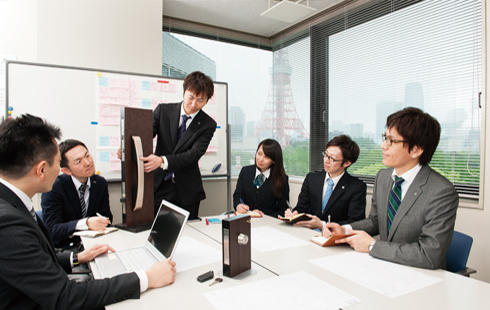 Miwa's top priority is to shorten development periods, in order that we can bring to market products that can rapidly respond to market trends. To this end, we are taking the lead in the research required for product development. This includes analyses of durability, workability, and other materials characteristics, as well as the application of IT, biometrics, and other next-generation technologies; furthermore, we are storing the latest data in order that this can be used at any time.

We predict changes in the market and in customer preferences, then plan and develop competitive products. Furthermore, we also take a long-term view of market trends, then plan and develop products that have the potential to create new markets. Our focus upon these two product planning concepts, as well as the close relation between our design, production, and management departments both enable us to plan the types of products that are demanded by our customers.

We have introduced state-of-the-art 3-D CAD/CAM systems in order to shorten lead times in all processes from planning and development through to productization,and we verify even the most detailed production processes on the computer screen.
We have achieved a reduction in lead times for the design and manufacture of our molds, which are vital to our products. In addition, our main molds are all manufactured in-house. Such has been our dedication to security since the establishment of our company.

Given that our locks protect our customers'lives and property, we will accept no defects. Accordingly, we ensure repeated, exacting prototyping as well as severe testing, and in the event of even a single flaw, we change the design and investigate reformulation of our plans. Only products that complete this exhaustive feedback process end up on the production line.
Product Planning Meetings

Design Room

Development and Engineering Center

Development and Engineering Center

Mechanical and electronics design

Operational check of robot