Our Business
Business Areas

Centered on our domestically top-ranked security business,
we are further expanding the areas in which we provide security and peace of mind.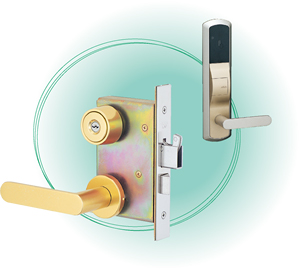 We are proud of our nearly 60% domestic share in building locks, and our products being used in 50 countries around the world is a core business for us. More than 50 years of experience and know-how in the development of locks, as well as exhaustive
quality management have made Miwa a global brand that can be relied upon, and this has translated into unparalleled support from our customers. Furthermore, recent years have seen us rapidly introducing cutting edge IT skills and biometrics technologies, and we are providing next-generation security systems that target future security needs.

Focused upon a secure tomorrow,
Miwa's latest technology is giving birth to leading products.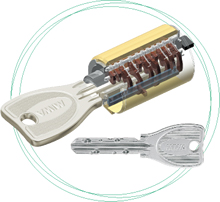 PR = an advanced,
high-performance cylinder worthy of the name "progressive." The combination of a two-way rotary tumbler and a locking bar provides a strong guard against picking or other unauthorized opening. The use of multiple of hardened components ensures high resistance to drilling attacks. With a highly precise and
complex structure, this cylinder offers more than 100 billion possible key configurations. This is truly the pinnacle of what a cylinder should be, providing durability, ease of operation and style. We particularly recommend this cylinder for large-scale residential housing complexes.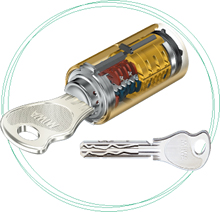 Meaning "freedom" in Italian (libero), this variable cylinder lives up to its name, offering the ability to freely change keys without having to replace the cylinder. This feature saves time and money in management and operations for apartment and other residential applications where new tenants used to mean having to replace cylinders. This cylinder saves costs and provides greater efficiency in building management scenarios. A reversible key with complex double inline and dimple configuration assures high security and ease of use. The clean Italian key design communicates style and class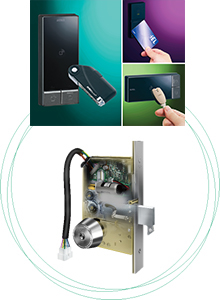 A revolutionary system for housing complex projects, this model incorporates both "the electronic lock control box" and "ID controller" in the lock case itself, components that had been separate until now in electronic lock applications. By simplifying the structure of the mechanism, we have provided large-scale cost savings and ease of installation. This system is also compatible with leading-edge technologies, including FeliCa, touch keys, non-touch keys for ID authentication, and more. Another feature of "iEL" is its superior compatibility with PC and mobile phone networks, facilitating a variety of network applications.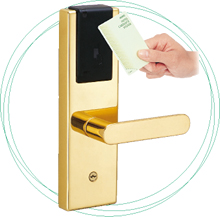 A card key system designed specifically for hotels. This lock offers a high level of security,
incorporating "a transaction key" to prevent unauthorized usage. This card lock offers superior durability, eliminating wear and tear through a non-contact structure that opens with a wave of the card key. This is the "ALV2" for which hotel management and guests have been waiting. A new style of hotel living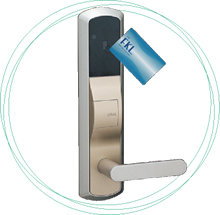 This is a completely new FeliCa-based rental property lock system, designed to respond to the needs of property management companies. Demonstrating superior safety and convenience, cards can be issued and managed through an Internet connection. Keys can be time-limited (for letting in prospective renters, room renovations, etc.), eliminating the need to install a separate lock when showing properties. In the event of lost or theft, once a card key is replaced, the prior key becomes invalid.
This model completely eliminates the past bother of having to frequently replace cylinders.