Our Business
Production System

Only the required quantities of the required products are delivered when they are needed.
This has been made possible by our large scale + high-mix, low volume production.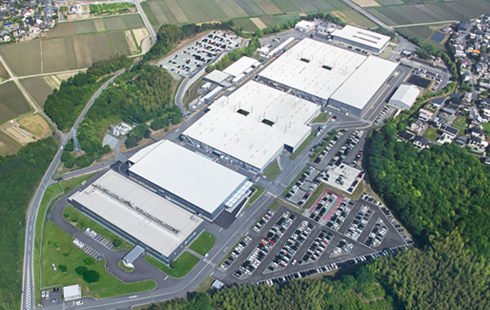 Our Tamaki Plant are the largest in Japan, and are responsible for production of approximately 70% of building locks. Together with the adjoining Ise Plant, these are our most important manufacturing facilities. Furthermore, we also have the Kawasaki Plant that produce primarily electronic keys and locks for industrial equipment, and the Morioka Plant that produce parts for castings. We have established a thorough production system that delivers only the required quantities of the required products, at the time they are required. Our Tamaki, Ise, and Morioka Plant have all received ISO9001 certification for their quality guarantees.

We predict changes in the market and in customer preferences, then plan and develop competitive products. Furthermore, we also take a long-term view of market trends, then plan and develop products that have the potential to create new markets. Our focus upon these two product planning concepts, as well as the close relation between our design, production, and management departments both enable us to plan the types of products that are demanded by our customers.

Individual operators within the factory use the"cell production method"that controls multiple assembly operations. This increases individual employee morale, and by making employees more conscious of their responsibilities as regards quality, we are increasing their motivation. At our production plants, we are constantly asking ourselves"is this good?"or"could we make this any better?"Consequently, we have put in place the"PDCA Management Cycle" in which the"Plan_Do_Check_Action"is repeated. We are putting all our efforts into stamping out defects, and in further reducing delivery times.
Tamaki Plant

Tamaki Plant

Tamaki Plant

Ise Plant

Morioka Plant

Kawasaki Plant