Products
Topics1 PGF series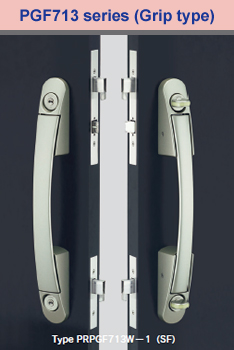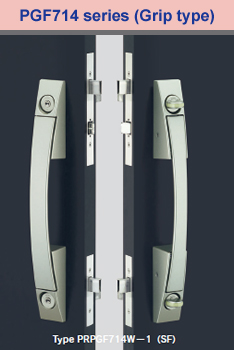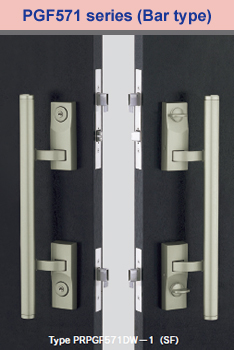 Since the claw bolt is used and the strike is strengthened, the lock exhibits high security performance against attacks by using tools such as pry bars. The claw bolt is very robust so that the antipress strength and the lateral force resistance are 10,000N or more.
The door can be opened easily just by"pushing/pulling"the handle.
The simple design, giving an impression of uniformity with the door, enhances the grade of the front door. Both grip (713 and 714) and bar (571) types are provided.
In order to achieve high security performance, the cylinder is fixed to the lock case with pins even if the grip handle is pulled away.
There are two types of lock, double-lock and single-lock.
Double-lock type: PGF713(714)W-1, PGF571DW-1
Single-lock type: PGF713(714)S-1, PGF571SU-1
It is possible to install a switch type thumturn lock that features both improved ease of use and security.
It is possible to further increase security by installing a switch type thumb-turn lock.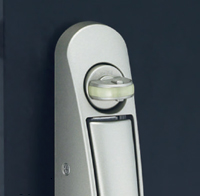 Type U1
Functions
Mountable cylinder
Model
Outside
Inside
U9
PR (-J)
JN
LB (-J)
PGF *W-1
PGF *S-1
PGF **DW-1
PGF **SU-1
Cylinder
switch type
thumb-turn
Grip
Grip
* indicates lever handle designs : 713,714
** indicates lever handle designs : 571
Use on inward opening door is also possible.
The PGF714 is also available in a version for inward opening doors.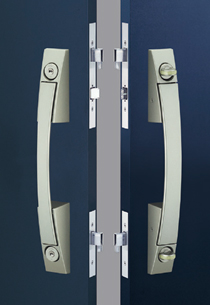 Type PRPGF714WーN(SF)
The type equipped with the standard deadbolt is provided also.
PG571DW (SU)-1

Note: The dimensions of the groove on the frame side differ between the claw bolt type and the standard deadbolt type.
Note 1: The locks can be used for an outward opening door only.
Note 2: An impact driver should not be used for installation. If the lock is installed with an impact driver, it may be difficult to dismantle or may not function well due to over tightening.
Specifications
Backset(mm)
64
Door thickness range(mm)
36-38, 38-40, and 42-45
Materials
713,714:Die-cast aluminum 571 :Aluminum
Finishes
Stainless color painted (SF)
Light silver painted (RV)
Champagne gold painted (CG)
Gold painted (GL)
Matt brack painted (BK)*
Door handle
Please specify the door handle when placing an order.
*Matt brack painted(BK)is for 713 and 714 types only.